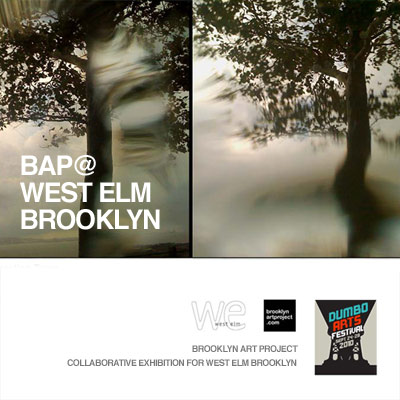 BAP @ West Elm Brooklyn

Come on out and join us this weekend at the 2010 DUMBO Arts Festival!
We're extremely proud to host an exhibition of BAP member work at West Elm Brooklyn (see map). Pieces ranges from felt walls to sculpture and photography. Several pieces will be available for purchase.
Featured Artists include: Susan Benarcik, Liz Burow, James Cospito as well as Abby Goodman
We're thrilled to have Anagnorisis' curator (and BAP blogger) Samantha Levin on board to help shape the show. We'd like to thank Hedley's Movers and Art Installers for all their help with the exhibition. Big thanks to all of our volunteers as well!
HOURS: Friday, Saturday and Sunday 10a-5pm
LOCATION: West Elm - DUMBO Brooklyn (see map)
BAP Member Exhibition
11am-5pm both days

20 Jay Street, 5th Floor Drawing Lounge (Map/Directions)
Filling the exhibit are 100 works created over the past two years at BAP meet-ups right here in Brooklyn. A curated selection will be available for purchase at a later date. Funds raised will go to benefit the Brooklyn Memorial Sloan-Kettering Cancer Center.
Collaborative Drawing Project
20 Jay Street, 5th Floor Drawing Lounge (Map/Directions)

Artists, come get your draw on - we've got plenty of markers and paint pens for you to collaborate and create a whole new body of work. You'll be drawing on beautiful salvaged paper sponsored by Precise Printing.
Start a brand new piece or collaborate on existing work with other artists.
Providing the vibes on Sunday from 2-4.30 will be "Very Very" one of our favorite local bands.
Visit the DUMBO Arts Festival site to learn more and see a complete listing of all the Open Studios. You can also download the official TimeOut New York Guide to this year's Festival.